Leading Provider of High Capacity, Competitively Priced Global Mobile Messaging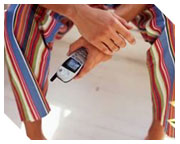 "C&W have selected Quios to be a participating member of its Capability Exchange Programme, which seeks to promote a collaboration between the two organisations in the market for mobile service provisioning. Through combining the high quality IP infrastructure of C&W with the high capacity SMS routing platform of Quios, our two companies can exploit the growing market opportunities for wireless content delivery."

- David Sangster, VP Service Providers, Cable & Wireless

'Quios' (pronounced Kee-Os), is a leading provider of quality, cost effective messaging. The company's network extends to over 450 wireless carriers in Europe, Asia Pacific and the US. Whether you need messaging for entertainment applications, CRM solutions, or interactive marketing services, the Quios SMS gateway can handle your needs for speed, functionality, and throughput.

The Quios product range has been designed with the customer in mind:

Q-500 Global High Capacity Bulk SMS
Q-500 is Quios' high quality, high throughput bulk SMS distribution service reaching over 450 wireless carriers worldwide. It incorporates an abundance of enhanced feature capabilities, and through our 'One World One Number' service, allows you to advertise one single number that consumers can use to reply to your messages. (only for non-US delivery)

Q-700 Short Code Service
Q-700 is Quios' Short Code based Delivery and Billing Service. It enables you to implement 2 way SMS services across a wide variety of carriers, and optionally, allows you to bill for these services on the consumer's cell phone bill.

Q-900 Applications
Quios' Q-900 Applications offer you a range of easily implemented SMS applications. From TxtXPress, Quios' unique Mobile Marketing solution, to ContentWeb, our end-to-end delivery and billing platform for mobile content, and SMS TV, the perfect solution for broadcasters to create live, on-screen interactivity with their viewers.






© 2011 by eWingz Systems, Inc. All Rights Reserved.